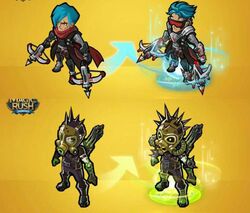 Awakening is a way for heroes to unlock their 5th skill for completing a series of tasks after reaching orange level.
You can do 2 awakening quests at a time, one of which can be a Legendary awakening of for a

Legendary Alliance Hero.
Hero Group Awakenings Edit
These are the Hero Group awakenings that provide a buff to the Heroes of that group.
Neutral Skill Awakenings Edit
These are personal awakenings that provide the Hero with a new skill.
Hero Group Table Edit
| Hero | | | | | | | | | | | | | | | | |
| --- | --- | --- | --- | --- | --- | --- | --- | --- | --- | --- | --- | --- | --- | --- | --- | --- |
| | | • | | | • | | | | | | | | | | | |
| | | | | • | | | | | | • | | | | • | | |
| | | | | ♔ | | | | | | | | • | • | | | |
| | ♔ | | • | | | | | | | | | | | | | |
| | | | • | | | | | | | | | | | | | |
| | | | | | | • | | | | | | | | ♔ | | |
| | | | | | | | | | | | | | | | • | |
| | | • | | | | | | | | | | | | | | |
| | | | • | • | | | | | | | | • | | | | |
| | | | | | | • | | | • | • | | | | | | |
| | | | | | | | | | • | | | | | | | |
| | | | | | | | | | • | | | | | | | |
| | | | | | | | ♔ | | | | | | | | • | |
| | | • | | | | | | | | | | | | | | |
| | | | | | | | | | | | | | | | | • |
| | | | | | | | | | | • | | • | | | | • |
| | | | • | | ♔ | | | | | | | | | | | |
| | | | | | | • | | | | | | | | | • | |
| | | • | | | | • | | | | ♔ | | | | | | |
| | | | | | | | | • | | | | | | | | |
| | • | | | | | | | | | | | | | | | |
| | | | | | | | | | | | | | | | | • |
| | | | | | | | | • | | | | | | | | |
| | • | | | • | | | | | | | | | | | | |
| | | | | | | | • | ♔ | | | | | | | | |
| | | | | | | | | | | | | • | | | | • |
| | | | | • | | | | | | | | • | | | | |
| | | | | | | | | | | | | | | | | • |
| | | | | | | | | | | | | | | | • | |
| | | | | | | | | | | | | | | • | | |
| | | | | | | | | • | | | | | | | | |
| | | • | | | | | • | | | • | | | | | | |
| | | | • | | | | | | | | | | | | | • |
| | | | | | | | | • | | | | | | | | |
| | | | | • | | | | | | | | | ♔ | | | |
| | • | | | | | | | | | | | | | | ♔ | |
| | | | | | | | | | | | | | | | | |
| | | ♔ | | | • | | • | | | | | | | | | |
| | | | • | | | | | | | | | ♔ | | | | |
| | • | | | | | | | | | | | | | | | |
| | | | | | | • | | • | | • | | | | | | |
| | | | | | | | | | | | | • | | | | |
| | | | | • | | | | | | | | | | | | |
| | | • | | | | | | | | | | | | | | |
| | • | • | | | | | | | | | • | | | | | |
| | • | | | | | | | | | | | | | | | |
| | | | • | | | | | | | | | | | | | |
| | | | | | • | | | | | • | | | | | | • |
| | | | | | | | | | | | • | | | | | |
| | | | • | | | | | • | | • | | | | | | |
| | • | | ♔ | | | | | | | | | | | | • | |
| | | | | | | | • | | | | | | | | | |
| | | | | | | | | | • | • | | | | | • | |
| | | | | | | | | | | | | | • | | | • |
| | | | | | | | | | | | | • | | | • | |
| | | | | • | | | | | | | | | • | • | | |
| | | | | | | | | | • | • | • | | | | | |
| | | | | | | | | | | | • | | | | | |
| | • | | | | | | | | | | | | | | | |
| | | | | | | | • | | | • | | | | | | |
| | | • | | | | | • | | | • | | | | | | |
| | | | | | | | | | | | | | | | | • |
| | | | | | | ♔ | | | | | | | | • | | |
| | | | | | | | • | | | • | | | | | | |
| | | | • | | | | | | | | | | • | | | ♔ |
| | | | | | | | | | ♔ | | • | | | | | |
| | • | | | | | | | | | | ♔ | | | | | |
| | | | | | | | | | • | | | | | • | | |
| | | | | | | | | | | | | | | | • | |