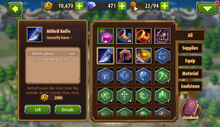 Contains items that can be used by heroes or sold to the market
Supplies
Edit
Used to communicate with other players.
Arena
Gold items
Edit
World Map
Edit
Offensive
Defensive
Castle
Equips grant additional stats that can either be passively or actively implemented.
Material
Edit
Materials / Runes are items used for advancing heroes to a better color. Only full runes are listed in this section and not scraps.
Soulstone
Edit
Soulstones are pieces of heroes you can collect to summon a new one or evolve to a higher star level
Ad blocker interference detected!
Wikia is a free-to-use site that makes money from advertising. We have a modified experience for viewers using ad blockers

Wikia is not accessible if you've made further modifications. Remove the custom ad blocker rule(s) and the page will load as expected.